The Requirements
To be a good fit for this opportunity you will have:
A bachelor's degree; we also will consider non-degreed candidates with significant relevant experience.
At least seven years of experience managing print production, including:

Solid, recent experience with direct mail marketing.
Strong leadership skills and a proven ability to manage people, projects and processes. Quick question for you - click here
A track record of identifying and implementing process improvements resulting in enhanced cost, quality and/or delivery times.
The ability to purchase custom printed materials in a deadline driven environment.

At least five years of supervisory experience.
Experience being directly responsible for inventory management, purchasing materials and services, and vendor management.
Demonstrated negotiation skills.
Intermediate level working knowledge of MS Excel and Word.
You also will need the following characteristics and competencies:
Excellent critical thinking, problem solving and analytical skills.
Strong oral, written and interpersonal communication abilities.
Self-motivation and the ability to organize, prioritize and handle multiple projects in a fast-paced, deadline-oriented, hands-on environment.
A can-do attitude and results orientation.
Meticulous attention to detail.
Impeccable integrity.
From time to time you will visit vendor facilities; for example, you may perform on-site press-checks. For the most part this will involve local day trips but you may travel overnight on occasion.
The Role
Reporting to the Director of Marketing, you will provide leadership and mentoring to two to three direct reports in mailing, traffic and inventory coordination.
You also will collaborate and manage relationships with key partners
, including Designers, the Mailhouse Supervisor, Marketing Program Managers, Finance professionals, and others. In addition, you will manage relationships with diverse vendors, including negotiating (we outsource production of all the products we offer).
You'll manage all aspects of direct mail, print collateral, and merchandising procurement and production, including management of vendors and production related processes. Your key objectives will include:
Providing leadership around process improvement, team building and professional development for your team.
Vendor management, including negotiating favorable agreements, monitoring performance and maintaining collaborative relationships.
Ensuring effective inventory management practices in collaboration with Marketing, Sales, Finance, Operations and others.
Production management, which will involve providing quotes, performing quality control, reconciling invoices and POs, and more.
Managing budgets, including sourcing and monitoring cost-saving opportunities, monitoring expenses against budget and more.
The improvements you drive will impact a number of key areas, including:
Printing, imaging, and mailing of all NNA direct mail. Quick question for you - click here
Inventory management, procurement and production of all NNA merchandise, including books and journals; most of the inventory is printed material, but there also are professional supplies and membership pride items.
Printing and mailing of The National Notary magazine.
Production of signage and material for annual NNA conference.
At any given time you can expect to be managing 6 to 12 projects, mostly in partnership with Marketing, in a multi-million dollar annual spend. In addition to ensuring these projects run smoothly, your mission will be to review
all
processes in both purchasing and inventory management to ensure we are using current best practices to maximize quality, cost and timeliness. We believe you'll be able to make your biggest impact in streamlining direct mail processes and improving inventory management procedures.
When you join our team, you will participate in a structured education program that introduces you to the Notary profession and provides you the essential knowledge and understanding of what it is to be a Notary and how the NNA serves the over 4 million US Notaries Public.
Note: this description is intended to give you a general overview of the position and is not an exhaustive listing of duties and responsibilities.
Why the NNA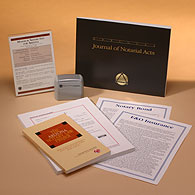 Strategic impact
-- the improvements you drive will influence a large budget and enhance our bottom line. For example, you might:
Evaluate whether we should enter into short or long-term contracts with the printers of various publications.
Analyze whether it is more cost effective to print and warehouse large quantities or go with print-on-demand.
Identify and evaluate potential new vendors.
Look at the entire year's production schedule and plan ahead not only to ensure we meet deadlines, but also to identify ways we might take advantage of economy of scale, etc.
Research new technologies.
We're also looking forward to the recommendations you'll make.
Unique diversity
-- chances are, you have not worked with all the different kinds of print we do, from hard cover books to postcards, and you'll be able to expand your experience. Not only are the products diverse, but quantity and complexity vary quite a bit as well. We've made extensive use of printed materials from the time the NNA was founded and they play a pivotal role in our core activities.
Autonomy and support
-- we'll give you the "elbow room" you need to succeed, but you'll also find a strongly supportive leadership team and a progressive culture that is not only open to transformation but also actively engaged in it. With multiple growth initiatives under way, the atmosphere is upbeat and exciting, and you will contribute to these initiatives.
The nation's leader
-- none of our competitors even come close to NNA's size, scope, and influence. We offer services and products for every stage of a Notary's career, from obtaining an original commission to ongoing education, professional supplies, bonds and insurance, emerging technologies, and more. We are also a trusted adviser to many state officials in the development and implementation of notary regulations.
Excellent compensation
-- in addition to a competitive salary and bonus incentive program (based in part on the bottom line savings you create), we offer a comprehensive benefits package that includes medical, dental, life, and disability insurance; a 401(k) plan ; profit sharing; ample paid holidays and paid time off.
Pictured: you'll ensure we're utilizing best practices to control costs while also ensuring we can deliver the full range of professional Notary supplies, such as this New Notary Kit.
Keys to Success
While this role is all about details, pivotal to your success will be your understanding that the details make up the big picture: you'll ensure we are able to provide top quality services and products to our members, our customers and the larger Notary profession. You'll provide leadership in many areas, but this also is a "working manager" role, and you'll need to be willing to roll up your sleeves to achieve goals. In addition, in order to be an outstanding Print Production Manager, you will:
Be a change agent, "selling" your ideas and educating people on best practices.
Take a proactive approach to helping direct reports grow and develop professionally.
Establish long-term, mutually satisfying relationships with vendors, but also take a good deal of satisfaction out of coming out of each negotiation with the best possible overall deal.
About the NNA

Established in 1957, the National Notary Association (NNA) is the leading professional authority of the American Notary office and is dedicated to educating, serving and advocating for the nation's 4.2 million Notaries. The NNA imparts comprehensive knowledge and understanding, promotes a positive public perception of the Notary professional, and bolsters consumer protection by promoting best practices. The Association's accredited professional programs, services and model legislation help Notaries advance their careers and serve the American public with the highest level of professionalism and ethics.
Pictured: membership pride items include T-shirts and lapel pins; you also will negotiate the best deals on custom merchandise for our annual conference and other events.