The Requirements
While our preference is that you come from a marketing environment, particularly direct marketing, we also will consider candidates without the marketing background as long as they have seven to ten years of proven experience in project management and scheduling. In addition, to be a good fit for this opportunity you will have:
At least three years of management experience.

Proven knowledge of project management techniques and tools.

Experience establishing processes and procedures

Knowledge of both theoretical and practical aspects of project management

A demonstrated ability to manage projects and stakeholders, including:

Managing complex projects.

Coordinating internal and external resources at all levels without direct authority.

Managing multiple simultaneous projects with competing deadlines.

Using tools such as reporting systems to monitor progress.

Proficiency in project management software such as MS Project, as well as MS Excel. Quick question for you - click here

Proven experience in strategic planning, risk management and change management.

A collaborative approach as well as the assertiveness to stand your ground when necessary.

Solid communication and interpersonal skills.

A bachelor's degree in Marketing, Business or related field, OR equivalent experience.
The Role
Reporting to the Director of Marketing, you will organize, plan, and direct the marketing and curriculum development resources to ensure the effective execution of marketing and curriculum development plans. Your job will be to make sure projects and campaigns run smoothly. You will also have direct management responsibility for the Product Purchasing Manager and Mailhouse Coordinator.

Currently project management is handled by a number of different people, and your mission will be to consolidate the process, assess our current practices, and recommend and then implement any improvements to tools, processes and systems. A key goal will be ensuring we have metrics in place to track deliverables, deadlines, etc.

The projects you'll manage will be quite diverse. Marketing projects will include deliverables in direct mail, web, email marketing, SEO, SEM, social media, strategic partnerships, and telemarketing. In curriculum development, deliverables are materials used in seminar, online and other training formats. At any given time you can expect to be managing multiple simultaneous projects of varying size and scope.

At a high level, your activities will include:
Ensuring that email, direct mail, curriculum development and other projects and campaigns are completed on time and are aligned with the organization's strategy, commitments and goals.

Creating and executing project work plans and revising as appropriate to deliver projects and campaigns on time and within budget.

Proactively keeping teams informed through status documents, meetings and follow-up, acting as an internal project information hub.

Ensuring the efficient and cost-effective procurement of products and services.

Developing and maintaining Marketing's direct marketing schedule and Curriculum Development's production schedule.

Providing day-to-day leadership for your team, including developing, coaching, etc.
When you join our team, you will participate in a structured education program that introduces you to the Notary profession and provides you the essential knowledge and understanding of what it is to be a Notary and how the NNA serves the nearly 5 million US Notaries Public.

Note: this description is intended to give you a general overview of the position and is not an exhaustive listing of duties and responsibilities.
Why the NNA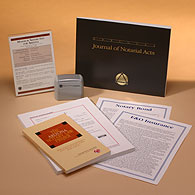 High visibility impact -- your contributions will make a difference not only in Marketing Operations, but on our entire organization: Marketing and Curriculum Development are key functions in helping us achieve our mission of supporting Notaries, and you'll help them be more effective. You'll also make an impact on your own career; assuming you're successful, this position may grow in responsibility, or you might pursue opportunities in other areas.

Make a good thing even better -- this is not a case of fixing something that's broken, but of building on strengths and leveraging your project management expertise to take this function to the next level. You'll make things smoother, more efficient and more effective, and your efforts will be appreciated by people in multiple areas of the NNA.

Positive environment -- we are implementing positive change across our entire organization and a strong performer can really make a difference. You'll find a supportive leadership team and a culture that is progressive and open to transformation. You also will find some old-fashioned values, like an unwavering commitment to the moral and ethical integrity that is fundamental to the Notary Public profession.

The nation's leader -- none of our competitors even come close to NNA's size, scope and influence. We offer services and products for every stage of a Notary's career, from obtaining an original commission to ongoing education, professional supplies, bonds and insurance, emerging technologies, and more.

Excellent compensation -- in addition to a competitive base salary we offer a generous incentive program. We also provide a comprehensive benefits package that includes medical, dental, life, and disability insurance; a 401(k) profit sharing plan; and generous paid time off.

Pictured: in addition to products like this new notary package, the NNA offers a variety of services such as accredited education programs, a toll-free Notary Hotline, and more.
Keys to Success
To excel in this role you will have a strong process orientation and a passion for achieving goals -- ideally these characteristics helped inspire you to get into project management in the first place. If you get excited about shaving seven minutes off a process or meeting a deadline, we definitely want to talk with you! You'll also need strong interpersonal skills, including the ability to develop collaborative relationships and persuade others. At the same time, you'll need to be willing and able to stand your ground when necessary; typically others (such as Marketing Managers) will be responsible in the event, for example, a contributor can't make a deadline; however, you will be driving change and you'll need to be proactive about getting everyone on board. You'll also use those interpersonal skills to work effectively with a variety of personality types, including strong ones.
About the NNA

Established in 1957, the National Notary Association (NNA) is the leading professional authority of the American Notary office and is dedicated to educating, serving and advocating for the nation's 4.8 million Notaries. The NNA imparts comprehensive knowledge and understanding, promotes a positive public perception of the Notary professional, and bolsters consumer protection by promoting best practices. The Association's accredited professional programs, services and model legislation help Notaries advance their careers and serve the American public with the highest level of professionalism and ethics.

Pictured: The National Notary, published six times a year, provides valuable information for Notaries and the corporations that employ them.