The Requirements
We are looking for a marketing and design professional with a demonstrated ability to develop creative materials that support marketing goals and drive response. In addition, to be a good fit for this opportunity you will have:
A bachelor's degree or an equivalent combination of education and experience.

At least eight years of graphic design experience across multiple marketing channels, including direct mail, web pages, email, catalogs, etc.

Two years of experience in a management role is preferred.

Experience with direct response marketing environments. Quick question for you - click here

The ability to solve business challenges, produce ideas with depth and good reasoning, and lay out the path from concept to solution. You'll also need to be able to articulate and "sell" your ideas.

Experience managing external resources is a plus.

Proficiency with software applications associated with creative and graphics design, including Adobe Photoshop, Illustrator and InDesign; Quark; HTML and other web technologies.

The ability to adopt new technologies and processes.

Strong oral, written and interpersonal communication skills to effectively interact and communicate with staff and management.

Strong self-motivation, initiative and a can-do attitude.

Solid organizational skills and the ability to manage and prioritize among multiple projects in a fast-paced, deadline-oriented, hands-on environment.

Meticulous attention to detail and a results orientation.
The Role
You will report to the Director of Marketing and lead a team that includes Graphic Designers, Web Designers and Copywriter. Quick question for you - click here

This team supports large marketing, training, and communication programs. You will be expected to drive the development of design solutions that meet organizational goals, and provide creative direction and technical assistance for design staff to ensure that their design solutions are of high quality, professional, and appropriate for the target audience and channel.

Currently Marketing Managers and Program Managers do the high level design and pass those along to Creative Services for execution. You will lead the effort to change this approach, focusing on three key areas:
Ensuring all collateral displays a consistent brand, look and feel.

Making sure Creative Services is involved from the beginning of a project to provide consultative input on the design and how it will support the project objectives.

Refreshing our current marketing, educational and other communciation vehicles, including direct mail, magazine. emails, landing pages, videos, and product packaging.
Your more specific activities will include:
Serving as a key voice in defining conceptual creativity for assigned projects and supervising designers on execution of assigned projects.

Guiding implementation of creative concepts for varied print, email, and online projects, assuring that professional design standards are developed and implemented.

Directing the team in the composition and production of high quality promotional and marketing materials, including evaluating direct reports' concepts and providing alternative solutions that stretch boundaries and redefine creativity.

Providing hands-on conceptual design, production and execution for a variety of projects.

Working with Marketing and Curriculum Development management team to establish and maintain design/production workflows and business processes.

Managing external resources and determining when to use them versus doing things in-house.

Providing staff management including hiring, development, motivation, performance evaluation, and coaching of diverse and multidisciplinary staff.

Managing and forecasting staffing and team changes to accommodate changing workloads and project flow.

Developing processes and communication patterns to support high-functioning and collaborative team environment.
When you join our team, you will participate in a structured education program that introduces you to the Notary profession and provides you the essential knowledge and understanding of what it is to be a Notary and how the NNA serves the nearly 5 million US Notaries Public.
Why the NNA

High visibility impact -- your contributions will make a difference in multiple areas of our entire organization; among them, Marketing is a key function in helping us achieve our mission of supporting Notaries, and you'll help Marketing be more effective. You'll also make an impact on your own career; assuming you're successful, this position may grow in responsibility, or you might pursue opportunities in other areas.

Make a good thing even better -- this is not a case of fixing something that's broken, but of building on strengths and leveraging your results orientation and leadership skills to take Creative Services to the next level. Once people see the results and response that can be generated by great creative collateral, your efforts will be appreciated by people in multiple areas of the NNA.

Positive environment -- we are implementing positive change across our entire organization and a strong performer can really make a difference. You'll find a supportive leadership team and a culture that is progressive and open to transformation. You also will find some old-fashioned values, like an unwavering commitment to the moral and ethical integrity that is fundamental to the Notary Public profession.

The nation's leader -- none of our competitors even come close to NNA's size, scope and influence. We offer services and products for every stage of a Notary's career, from obtaining an original commission to ongoing education, professional supplies, bonds and insurance, emerging technologies, and more.

Excellent compensation -- in addition to a competitive base salary we offer a generous incentive program. We also provide a comprehensive benefits package that includes medical, dental, life, and disability insurance; a 401(k) profit sharing plan; and generous paid time off.

Pictured: The National Notary, published six times a year, provides valuable information for Notaries and the corporations that employ them. You'll play a key role in ensuring The National Notary remains fresh and compelling.
Keys to Success
Frankly, we expect that you'll meet some resistance in driving change. While we'll look to you to bring a collaborative approach, you'll also need a thick skin and the assertiveness to hold your own in meetings with people with strong personalities. It won't be enough to say, "Because it's a good design;" you'll need to be able to articulate how the design will help drive results. You'll also need a "lean" mindset to excel in our mid-sized, growth-oriented environment. This will include maximizing the available resources and focusing on functional designs that drive results. There's definitely room to be creative, but this isn't a glitz & glamour role.
About the NNA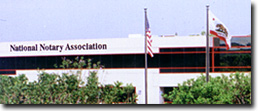 Established in 1957, the National Notary Association (NNA) is the leading professional authority of the American Notary office and is dedicated to educating, serving and advocating for the nation's 4.8 million Notaries. The NNA imparts comprehensive knowledge and understanding, promotes a positive public perception of the Notary professional, and bolsters consumer protection by promoting best practices. The Association's accredited professional programs, services and model legislation help Notaries advance their careers and serve the American public with the highest level of professionalism and ethics.