The Requirements
The ideal candidate will combine a core foundation in adult education / learning principles, familiarity with marketing and product management, an entrepreneurial nature and a passion for leadership. In addition, in order to be a good fit for this opportunity you will have:
A bachelor's degree from an accredited college or university.

At least five years of experience in developing educational materials / curriculum for adults as products to be marketed and sold.

At least three years of experience supervising and managing a team, exceptional leadership skills and a demonstrated ability to build a cohesive, innovative and productive team.

Experience with learning management systems (LMSs) and online learning.

Strong business acumen.

Demonstrated project management skills.

Advanced computer proficiency, including the ability to:

Use a large number of functions in MS Office (Word, Excel, PowerPoint, Outlook) and other applications.

Troubleshoot equipment and technology and provide technical training to others.

Create dynamic and visually appealing PowerPoint presentations.

Effective communication skills and the ability to interact effectively and professionally with internal team members and external vendors and suppliers.
The Role
Reporting to the Director of Marketing, you will lead a team of six that includes writers, subject matter experts and an Editorial Assistant; we occasionally use contractors for specific expertise as well. Over the past six months, we have been transforming the Curriculum Development (CD) function from an operational one producing traditional materials to one that is strategic and innovative in taking advantage of the latest channels and technologies (online learning, podcasts, webinars, etc.).

You will assume leadership of this transformation and, in a nutshell, your mission will be to recognize, articulate and deliver what the market wants with regard to training. This will include ensuring that we approach training as a product portfolio and manage it that way.

Key objectives will include defining the educational product vision, creating and developing new training and educational products, gathering and prioritizing requirements, managing Curriculum Development staff, and overseeing all projects to ensure they are completed on-time and within budget. You also will support Marketing and Sales in the rollout of new educational courses, including product features, positioning in market, and pricing, to ensure revenue and customer/membership satisfaction goals are met.

Your activities will fall into three key areas:
Leading the CD team, which is made of seasoned professionals with a strong grasp of the content. You will help them embrace a market-responsive approach and expand their knowledge of current channels. You'll also set priorities and deadlines, and ensure the team meets them.
Developing and updating educational products that are not only responsive to market demand, but also topical, interesting and keep people coming back for more. You'll also ensure that products support goals around generating revenues and / or building membership, and that delivery takes advantage of the latest technologies and most effective channels.
Providing product management on both a strategic and tactical level. You'll take a big picture view of each training program to ensure content is used effectively across multiple channels, and also establish schedules, assign resources and estimate ROI. In this and other areas you will collaborate with Marketing Program Managers and others.
When you join our team, you will participate in a structured education program that introduces you to the Notary profession and provides you the essential knowledge and understanding of what it is to be a Notary and how the NNA serves the nearly 5 million US Notaries Public.

Note: this description is intended to give you a general overview of the position and is not an exhaustive listing of duties and responsibilities.
Why the NNA

Leverage the leadership -- it's worth repeating the scenario: you'll join the leading professional resource for Notaries (see "The nation's leader," below) and play an influential role as you develop and execute your educational vision. We have a wealth of expertise and content (including some of the most respected thought leaders in the industry on our staff), curriculum development talent, a robust Marketing department and nationwide marketing infrastructure, and resources to invest in your ideas.

Unleash your creativity -- the topics and delivery channels are wide open, and we're looking to expand beyond required training and traditional training approaches; yes, Notaries need certain training, but you'll showcase your innovation in coming up with ways to present it in a way that makes consumers want more . . . more from the CD portfolio and more from the NNA in general. And if you have the entrepreneurial marketing spirit we're looking for, this will intrigue you: the NNA has thousands of members and supports 4.5 million Notaries in the US.

An environment ripe for impact -- we are implementing positive change across our entire organization, laying the groundwork for significant growth, and a strong performer can really make a difference. You'll find a supportive leadership team and a culture that is progressive and open to transformation. You also will find some old-fashioned values, like an unwavering commitment to the moral and ethical integrity that is fundamental to the Notary Public profession.

The nation's leader -- none of our competitors even come close to NNA's size, scope and influence. We offer services and products for every stage of a Notary's career, from obtaining an original commission to ongoing education, professional supplies, bonds and insurance, emerging technologies, and more.

Excellent compensation -- in addition to a competitive base salary we offer a generous incentive program. We also provide a comprehensive benefits package that includes medical, dental, life, and disability insurance; a 401(k) profit sharing plan; and generous paid time off.

Pictured: 12 Steps to a Flawless Notarization, developed and published by the NNA, takes Notaries through the 12 simple steps to performing hassle-free notarizations.
Keys to Success
You will be a change agent, and you'll need a passionate approach to leadership and a deep-rooted results orientation. You'll find the Curriculum Development team open to positive change, but they'll also need the guidance of a hands-on manager. As you work with other departments in the NNA, you may have to "sell" your ideas, but a different approach is nothing new to our staff. Whether you're interacting with your team or with people from other areas, you'll need to understand that influence and motivation are more effective than authority. At the same time, you'll need the ability to be assertive when necessary.
About the NNA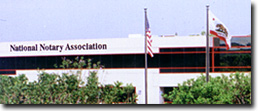 Established in 1957, the National Notary Association (NNA) is the leading professional authority of the American Notary office and is dedicated to educating, serving and advocating for the nation's 4.8 million Notaries. The NNA imparts comprehensive knowledge and understanding, promotes a positive public perception of the Notary professional, and bolsters consumer protection by promoting best practices. The Association's accredited professional programs, services and model legislation help Notaries advance their careers and serve the American public with the highest level of professionalism and ethics.