The Requirements
To be a good fit for this opportunity you will have:
A bachelor's degree; an MBA is preferred.
Substantial experience in marketing, including:

Direct marketing.
Marketing for ongoing customer / member relationships and engagement, such as in member-focused marketing and communications.
Customer / member-based product development.
Integrating marketing across multiple channels (direct mail, web, social media). Quick question for you - click here

The ability to develop and implement high level strategy and a proven track record of driving revenue and achieving measurable goals.
Significant managerial experience with increasing levels of responsibility, including:

Experience in executive level management and managing middle and senior level managers.
Exceptional leadership skills and a demonstrated ability to manage change, develop staff and drive organizational improvements.
The ability to hit the ground running.

Excellent written and verbal communication and interpersonal skills.
The ability to multitask, prioritize, and solve problems at a variety of levels.
The Role
Reporting to the CEO, you will oversee Directors and Managers in (1) Marketing Acquisition and Retention, (2) Web Marketing, (3) Marketing Operations, (4) Creative Services, (5) Curriculum Development and (6) Communications. Overall the Marketing and Communications function has about 25 staff members. You will develop and direct the implementation of marketing and communications strategy to acquire new members, retain existing members and grow revenue.
While we'll look to you to recommend areas of focus, we believe you'll want to start with these:
Developing an overall strategy that integrates all six areas and takes advantage of synergies between and among them. You'll also make sure this strategy accounts for priorities, greatest potential, and changes in the markets.
Ensuring we have the right mix of talent internally and also that we are making the best use of external contractors. This will include developing internal talent; for example, four of the six direct reports to this role are new, giving you even greater opportunity to shape the Marketing and Communications function.
Creating a culture of high expectations that encourages creativity and ambitious ideas.
Implementing strategy and tactics to increase conversion rates across multiple channels; we expect this will involve re-thinking the look, feel and content of various collateral.
Your specific activities also will include:
Developing effective marketing strategies to significantly grow market share in key states.
Driving the increased engagement of members and key constituents through the utilization of multiple communication channels, including social media, web and traditional media.
Developing a product management function, including features, functionality, benefits, competitive analysis and pricing for NNA's standard product lines (education, insurance, bonds, supplies, membership) to drive product innovation and increase profitability.
Creating a vision for sustainable brand growth and building brand value.
Advocating and advancing the NNA's thought leadership position.
Establishing and changing organizational structure to ensure effective operations and support growth. Quick question for you - click here
And more.
Note: this description is intended to give you a general overview of the position and is not an exhaustive listing of duties and responsibilities.
Why the NNA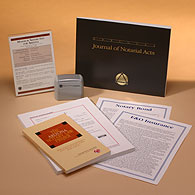 Impact now and later
-- we've been driving positive change over the past couple of years and you'll be able to capitalize on growth already under way. At the same time, we're making small, incremental steps and we believe a leader with "fire in the belly" can accelerate that growth in short order.
Intriguing challenges
-- if you're the person we're looking for, the opportunity to lead us beyond (
well
beyond) 10% market share has piqued your interest. Here are some other challenges you'll be able to sink your teeth into:
Strengthening our efforts to further penetrate key states, leveraging what has been successful and exploring new approaches. This will include revamping our strategy in California, where our market share is greatest, in response to California's shrinking Notary population.
Creating a strategy to capture that part of the Notary population that is less active in contrast to those for whom Notarial services is a primary career. The less active population may not be motivated to pay for a full membership, but they still need supplies and training . . .
Accelerating momentum in B2B sales, supporting corporations that employ Notaries. Last year this was a strong growth area for us and we brought in a number of enterprise-level clients purely through sales efforts. You'll take point on complementing these efforts with marketing strategies, including targeting mid-sized businesses.
Push the boundaries
-- if you are frustrated in your current role because you can't put your great ideas to work, this role is custom-made for you. Rather than hearing "No," you'll hear things like "Think bigger! You're being too conservative." That may well become your mantra as you develop your team and re-energize the culture.
The nation's leader
-- none of our competitors even come close to NNA's size, scope and influence. We offer services and products for every stage of a Notary's career, from obtaining an original commission to ongoing education, professional supplies, bonds and insurance, emerging technologies, and more.
Excellent compensation
-- in addition to a competitive base salary we offer significant incentives. We also provide a comprehensive benefits package that includes medical, dental, life, and disability insurance; a 401(k) profit sharing plan; and generous paid time off.
Pictured: in addition to products like this new notary package, the NNA offers a variety of services such as accredited education programs, a toll-free Notary Hotline, and more.
Keys to Success
Your strategic marketing savvy will be essential, but just as important will be your ability to generate new energy and inspire a new level of enthusiasm across Marketing and Communications. To do so you'll need to establish your credibility by delivering results, and doing so in short order. Even as you are looking forward and developing high level strategy, you'll need to take action and make decisions right off the bat. We are upgrading our technology and infrastructure, but it may be some time before that is complete; in the meanwhile, you'll need to be the kind of person who "gets it done regardless" and has the resourcefulness to generate results with the resources at hand.
About the NNA

Established in 1957, the National Notary Association (NNA) is the leading professional authority of the American Notary office and is dedicated to educating, serving and advocating for the nation's 4.2 million Notaries. The NNA imparts comprehensive knowledge and understanding, promotes a positive public perception of the Notary professional, and bolsters consumer protection by promoting best practices. The Association's accredited professional programs, services and model legislation help Notaries advance their careers and serve the American public with the highest level of professionalism and ethics.
Pictured:
The National Notary,
published six times a year, provides valuable information for Notaries and the corporations that employ them.