The Requirements
To be a good fit for this opportunity you will have:
A bachelor's degree.
At least three plus years of marketing experience in a direct marketing environment; experience with online marketing is required and experience also with direct mail is a plus. Quick question for you - click here
Knowledge and understanding of targeting tools, consumer segments, media channels and processes.
Proven project management skills.
Proficiency in MS Office Suite, particularly Excel (including data analysis and pivot tables) and PowerPoint.
Just as important as your experience and skills will be the following characteristics and competencies:
A strong desire to learn and grow professionally, as well as the ability to train others.
Solid critical thinking, problem solving and analytical skills.
Strong oral, written and interpersonal communication abilities to effectively interact and communicate with staff and management.
Robust attention to detail.
Self-motivation, initiative and the ability to organize, prioritize and handle multiple projects in a fast-paced, deadline-oriented, hands-on environment.
A can-do attitude and results orientation.
The Role
You will report to and support a Marketing Acquisition Program Manager who manages the marketing of our services to become a Notary or renew Notary commissions. While your main focus will be to execute the planned marketing activities for assigned States, the position will also be support the Program Manager in developing strategic plans for lower priority States.
You'll assume responsibility for scheduling, developing, and producing multiple types of marketing campaigns efficiently, on time, within budget and with high degree of quality. This will involve working across multiple marketing channels, including direct mail, email, Web, SEM (PPC) and social media, as well as coordinating activities and sharing critical information with Product Management, Creative Services, Marketing Production, Communications, IT, and Operations.
Quick question for you - click here

More specifically, you will:
Assist the Marketing Acquisition Program Manager in coordinating various integrated marketing activities.
Execute assigned marketing campaigns to promote NNA products and services to target audiences in order to meet or exceed sales targets. Toward this end you will:

Schedule campaign activities and coordinate production of different campaign components.
Prepare production files for all assigned marketing jobs.
Maintain and track production plans for key deliverables and provide on-going status to stakeholders.
Write engaging content for promotions that support business objectives and adhere to established brand guidelines and voice.
Apply test and learn principles to improve marketing campaign performance.
Develop and manage online content via a content management system.
QA lists, emails, direct mail imaging, and other marketing assets to ensure they are accurate.

Monitor campaigns and analyze results to ensure that expectations were met or exceeded in terms of specific metrics. Based on analysis, you'll make recommendations to improve campaign effectiveness.
Support market research and maintain competitive matrices.
Develop and maintain an in-depth understanding of Notary practices and the needs of Notaries.
Support the annual planning and budgeting process.
Manage marketing planning for assigned States, if appropriate.
When you join our team, you will participate in a structured education program that introduces you to the Notary profession and provides you the essential knowledge and understanding of what it is to be a Notary and how the NNA serves the over 4 million US Notaries Public.
Note: this description is intended to give you a general overview of the position and is not an exhaustive listing of duties and responsibilities.
Why the NNA

Professional development
-- not only are we the leading marketing organization in our space, but marketing also is a
major
emphasis at the NNA. You'll work with people who have deep experience and track records of success, and you'll expand your experience in multiple channels. For example, you may have read in a textbook that direct mail is "dead," but we'll show you how effective it can be, especially integrated with other channel tactics.
Career growth
-- our hope is that, within a relatively short time, you will prove yourself capable of managing campaigns independently. A longer-term goal is that you are able to become a Marketing Program Manager yourself; you might also pursue other opportunities within Marketing or even other areas of the NNA.
Positive, dynamic environment
-- we are implementing change across our entire organization, laying the groundwork for significant growth. You'll find a supportive leadership team and a culture that is progressive and open to transformation. You also will find some old-fashioned values, like an unwavering commitment to the moral and ethical integrity that is fundamental to the Notary Public profession.
The nation's leader
-- none of our competitors even come close to NNA's size, scope and influence. We offer services and products for every stage of a Notary's career, from obtaining an original commission to ongoing education, professional supplies, bonds and insurance, emerging technologies, and more.
Excellent compensation
-- in addition to a competitive base salary and incentive program, we also provide a comprehensive benefits package that includes medical, dental, life, and disability insurance; a 401(k) profit sharing plan; and generous paid time off.
Pictured: another benefit of NNA membership is
The National Notary
magazine, our award-winning flagship member publication and one of the world's most widely read periodicals for Notaries.
Keys to Success
This is not an online program management role, although online strategies figure strongly into our campaigns; to excel here you must be motivated to leverage all the channels and to explore the synergies between and among them. While we're looking for a strong person, you also will need to recognize the importance of teaming with others to succeed -- oversized egos don't work well in our environment. We'll look to you to maintain an open mind and a desire to learn new things -- ideally you will be naturally inquisitive and driven to figure out how and why things work the way they do, and how you can make work them better.
About the NNA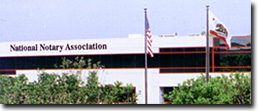 Established in 1957, the National Notary Association (NNA) is the leading professional authority on the American Notary office and is dedicated to educating, serving and advocating for the nations 4.2 million Notaries. The NNA imparts comprehensive knowledge and understanding, promotes a positive public perception of the Notary professional, and bolsters consumer protection by promoting best practices. The Association's accredited professional programs, services and model legislation help Notaries advance their careers and serve the American public with the highest level of professionalism and ethics.