The Requirements
To be a good fit for this opportunity you will have an engaging and energetic presentation style and interest in the Notary profession. If you're already a Notary yourself, great; if not, we'll train you. You also will need to truly
enjoy
the flexibility that comes with this role, not merely be willing to put up with it. We're looking for professionals who can grasp complex and technical material, including notarial law, and present it so that it's accessible to diverse audiences. In addition, to be a strong fit for the Seminar Instructor role, you will need:
Excellent presentation skills, including the ability to represent complex topics in simple terms by showing relevant examples, ideally gathered from professional experience.
A bachelor's degree from a U.S. regionally or nationally accredited university is preferred, but we will consider candidates with strong study skills and learning abilities.
One to two years of relevant professional experience leading to polished presentation abilities. Quick question for you - click here
Strong self-motivation, professional maturity and a demonstrated ability to achieve goals independently and with little supervision.
Ability to read, comprehend and apply a good deal of complex subject matter quickly.
The ability to "think on your feet" to respond to questions that may not be covered in the materials.
The resourcefulness to maintain poise and improvise in diverse situations.
Strong customer service skills.
Solid oral and written communication skills.
Strong attention to detail.
Working knowledge of spreadsheets, databases, and word processing software is required.
Flexibility to occasionally run seminars on short notice, and to work two weekend days per month.
Ability to work as a strong team member and co-presenter for very large groups.
Experience working remotely or telecommuting is a plus.
During your first 12 weeks with us you will invest about 35-40 hours a week in learning and training (with pay, of course). The program is structured and we'll provide support, but you'll need to take ownership of your own success.
In addition you will need to be willing and able to travel throughout your region, so you'll need reliable transportation, a valid driver's license and automobile insurance. There may be overnight stays, but mostly you'll be home for dinner. If you travel over 60 miles, you can choose to spend the night.
Quick question for you - click here

Note: as part of the interview process, candidates will be asked to give a mock presentation to demonstrate their skill and presentation style.
The Role
You will be a member of a team that currently includes approximately a dozen Seminar Instructors. The training program you will deliver provides three key benefits to attendees:
It fulfills the state mandated training requirement to receive or renew a notary commission.
It prepares attendees to pass the state Notary exam.
It prepares them to practice as a successful Notary.
Typically your seminar will be paired with the administration of the state exam, delivered by a state-certified proctor shortly after the seminar. While not all the attendees will test that same day, this arrangement will provide you with feedback regarding passing rates, which will be your key metric. In addition to delivering the material, you'll monitor room arrangements, set up seminar materials and equipment (such as a projector and laptop), check people in, respond to questions about the content, and handle procedural inquiries.
Quick question for you - click here

Depending on the number of attendees, there may be one or two Instructors at each seminar. If there are two of you, you'll share responsibilities for providing registration support and presenting the material. You'll take turns in both roles and, when in the support role, you will sell supplies, often in the back of the room, during breaks, lunch, etc. This is NOT a hard sales position by any means -- you simply will offer supplies related to seminar content. At the same time, you'll earn commission on those sales.
During your "home office" time you'll study and prepare materials, make logistical arrangements (such as scheduling the materials to be delivered) and maintain your personal subject-area knowledge. You will present in various locations in your region, usually in a hotel or on a university campus. Typically, you will deliver one or two seminars in a week, although there may be weeks when you present three. In general we schedule the instructors one month out but the ideal team member will be able to pitch in on a day's notice.
Note: this description is intended to give you a general overview of the position and is not an exhaustive listing of duties and responsibilities.
Why the NNA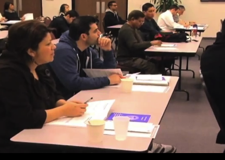 Help people and the profession
The education you provide will help people launch a high-potential career and keep their skills current, a valuable service at a time when many are exploring career options. You'll also contribute to maintaining the high standards of a profession that is in demand now more than ever -- consider the growing incidence of fraud and identity theft, for example.
Flexibility by design
On average you'll present eight to twelve seminars per month, although the schedule will vary; you may present three in one week and none at all the next. However, this region generally has a steady schedule of seminars. With travel and set up, seminar days can be fairly long, running 10 to 12 hours. Our most valued team members have a high degree of schedule flexibility and like it that way.
Other projects
Certain times of the year require a lower number of seminars or a break in the seminar schedule. For example, you will be off the last three weeks of the year, and you may be clear over Thanksgiving week. Sometimes you can plan ahead and know you'll be off (end of the year), but when times are slow you can gain hours by doing special projects. Projects could include developing your curriculum, testing e-learning materials, reviewing/editing new texts in progress, or even working our hotline and answering incoming Notary questions. All projects can be executed from your home office.
The nation's leader
None of our competitors even come close to NNA's size, scope, and influence. We offer services and products for every stage of a Notary's career, from obtaining an original commission to ongoing education, professional supplies, bonds and insurance, emerging technologies, and more.
Positive, dynamic environment
We are implementing change across our entire organization, laying the groundwork for significant growth. You'll find a supportive leadership team and a culture that is progressive and open to transformation. You also will find some old-fashioned values, like an unwavering commitment to the moral and ethical integrity that is fundamental to the Notary Public profession.
Competitive compensation
In addition to a competitive hourly rate, you will qualify for commission opportunities once you have completed certification in our training program. We also offer bonuses, based on passing rates, after a probationary period. You'll also be able to participate in our a 401(k) plan, which has a company match, and we'll pay mileage and travel expenses.
Keys to Success
To excel in this role you will employ a dynamic presentation style that engages the attention of learners even when the material is dry. Our Seminar Instructors are detail oriented, mature and able to work independently as well as contribute to the team. They also are very committed, investing time and effort into knowing the profession and the material. Being the thought leader for the nation's Notaries means maintaining an unwavering commitment to the moral and ethical integrity that is fundamental to the profession, and we'll expect you, as the face of the NNA, to conduct yourself with the same high standards.

This role is not for everyone: it requires a degree of stamina in order to travel regionally, transport 40 lbs. of training materials, deliver platform training for six hours -- and sometimes do it three days in a row. Ideal candidates will be self-possessed and unflappable even as things come up during the day, able to smile and continue delivering a seamlessly positive experience for attendees.
About the NNA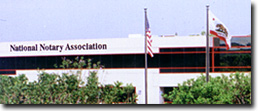 Established in 1957, the National Notary Association is the leading authority on the American Notary office and is dedicated to educating, serving, and advocating for the nation's Notaries. With hundreds of thousands of members, the NNA imparts comprehensive notarial knowledge and understanding, and bolsters consumer protection by promoting best practices. Never before has the role of the American Notary Public been so important in all aspects of society.
A dynamic, rapidly growing, respected, and influential organization, we work closely with diverse industries and government to implement sound consumer-protection and antifraud programs; we are the leader and authority on electronic notarization of e-documents, an emerging business with tremendous growth potential for the NNA and our members.